Sorry to interrupt your adversity…
by Michelle Pearson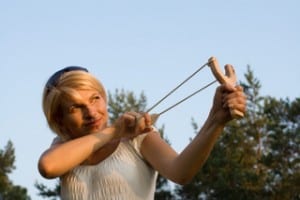 We interrupt your adversity and interrupt our regularly scheduled broadcast, err, blogcast, to bring you a special announcement…
It will get better!
Ever feel like you have one "test" after another? Or do you feel like you are constantly in the refiner's fire? Except the "dross" is all you see instead of the gold? Or that the giants are all around you, mocking?
Well, grab your five smooth stones and take aim! The giants are about to fall.
I was sitting down to write today when the doorbell rang. At 7:50 in the morning. There stood a woman to tell me, "I was praying for my daughter in the car before she goes to school and I ran into your mailbox." She said to me, "I told the Lord, 'I can't believe I have to go tell someone I was praying and I ran over their mailbox!' "
Sigh. I have a hugely challenging day today with a real Goliath on the horizon. That is why I was up until 1:30am last night and am already working at 7:50 in the morning. And what is this? One more thing to handle. You have to be kidding. Do you know how much that special over-sized mailbox cost? Do you know I poured that concrete pad myself?? Do you know I have that for my business? 
My mailbox. Your daughter. Hmmm.
My heart responded instead of my head, (Thank God.) I smiled at her to lift her spirits and replied, "It is not a problem at all, don't think about it one more second, your daughter is what is important, not the mailbox, I'm so glad she knows you are praying for her. Go on and have a good day now."
And in my heart I said, "None of these things move me. I have five smooth stones…"
Real victory comes when you stop thinking you can (or have to) do this yourself, in your own strength, effort, or will power.
Friends, the plain truth is… we all struggle sometimes. Old, young, strong, weak, men, women, short, skinny, fat, tall, handsome pretty, plain, blonde, brunette, grey, or even pink… challenges come to us all. Some really big challenges, some really small. As we go through life, they come. If you aren't having any now, you can expect to encounter at least a few somewhere along the line. That's not a bad confession; it is the nature of the world that's around us. But whether now or later, don't despair!
It is not a lack of faith to encounter challenges. (Just like temptation is not sin.) It can only take you out if you let the challenges get you sidetracked or make you paralyzed. The best way to overcome is to encourage someone else, especially when you want to have your own pity party! Well, pity is not invited to nor entertained in a champion's party life!

Have you read the first post on our new website, "Pardon our dust, we're expanding." But it should be titled, "Does your life need a facelift?" It says God who promised is faithful. God gives strength to the weary and increases the power of the weak. When you completely surrender to the Lord in trust, not desperation, and you rely on Him for the power to make right choices, His power is made perfect in you.
But he said to me, "My grace is sufficient for you, for my power is made perfect in weakness." Therefore I will boast all the more gladly about my weaknesses, so that Christ's power may rest on me. That is why, for Christ's sake, I delight in weaknesses, in insults, in hardships, in persecutions, in difficulties. For when I am weak, then I am strong. 2 Corinthians 12:9-10 (NIV)
I hope this encourages you today in whatever you are facing. Know that God sent you this love note to tell you grace and strength will come to aid you. You can delight yourself in weaknesses, hardships, and difficulties; even boast when they come your way! For it is in our weakness that His power is made perfect!
Will you do something for me today? Step out of your comfort zone, stop "examining your own navel" (where it is all about "me"), and show someone else an act of encouragement. You, too, have five smooth stones! Be the encouragement someone else needs! It is the way out of your challenge.

I'd love to hear back how you do that today. Click on "Comments" below and tell me how you plan to or are able to inspire and encourage others today.
Know someone who is struggling with discouragement or health problems?
Of course you do! Please share this with them.
Choose. Activate. Achieve.