Gluten Free Pizza Crust
Quick and Easy at Home from Almond Flour!
Have you missed great pizza since you went gluten-free or since you reduced carbs to drop some extra weight off? Well we have great news! This recipe is a real WOW! Miss your pizza no more! AND, it can be turned out easily from home quickly. Perhaps the greatest two things is that it is all protein (no grain flours) and it does not taste like cardboard!
I was given the link to the crust recipe by a friend of a friend on Facebook after failing with my first attempt at using the Almond Flour (almond meal, really). I made it just like I found the recipe here for Paleo Almond Flour Pizza. Although Doc and I are not gluten-free, the site has lots of recipes that look great for healthy eating in general, so I will be trying more for sure!
But I do want to share our experience and the pizza we made that definitely convinced me THIS will be on our menu on a regular basis! Being a protein-based crust, I won't have to limit it like I do the other gourmet pizzas we make. They are wonderfully delicious for certain! But for most, they should be occasional meals not weekly!  A huge guiding rule in selecting our menu plans is this: "All things are permissible, not all things are beneficial!"
If you will meditate on these mind renewing truths, you will see a significant increase in resulting health, Spirit, Soul, and Body:
Food is for our fuel and our pleasure. Just make sure you stay in the authority – you have it, not the other way around. When pleasures of life, like food or drink for instance, when the pleasure has you instead of you having it, it is time to fast that thing until healthy authority and perspective is reclaimed for health! Living fully is not about what you can't have! And it is not about a life of no restraint either. It is about celebrating life with gratitude which results in choosing healthy to perpetuate living fully! We choose healthy because we have been healed, not in order to be healed.
Here is a wonderful recipe for pizza that both tastes great and strengthens your vessel and your mindset! Enjoy it fully! And please leave comments to let me know how you change it up with different topping that you and your loved ones enjoy! (Love people, enjoy life's pleasures.)
So here is how I made the recipe mentioned above into our own creation:
Almond Flour Pizza Crust:
2 Cups Almond Meal/Flour
2 Eggs
2 Tbsp Extra Virgin Olive Oil
1 Tsp salt
Our Toppings:
4 oz Creamy Basil Pesto Alfredo Sauce (use the jar pesto or a packet of both pesto and alfredo sauce; packets are much less expensive and you just mix them together and add your own olive oil. Also used a sun-dried tomato pesto last night, thinned with extra olive oil, was delicious.)
2 cups shredded Mozzarella
Optional: (if you are reducing your weight, you can leave off the two extra cheeses.)
2 ounces of Feta Crumbles
1 ounce or two of Parmesan Cheese, shredded
2 Cups+/-  Roasted Chicken
1 Large jar Artichoke Heart Quarters (I selected the non-marinated because we use the pesto as our sauce)
Sliced or Diced Jalepenos (To taste 🙂 )
Instructions:
Mix all the ingredients together to form a dough. Will look just a bit sticky at this point. That is expected. Just let it rest for 5-10 minutes.
Preheat the oven to 350 degrees.
Tear off two pieces of parchment paper just larger than your pizza pan or stone. Cut one piece to the round shape and size of the pan or stone and make that the bottom piece. (My parchment paper says no need to oil it, if yours is not that type, then light oil the two pieces on the side that will contact the dough.)
Put the dough between the two pieces of parchment paper and roll it until desired thickness.  You might find it more of a pressing out with the rolling pin rather than rolling, but just roll it out to the size of the bottom parchment piece. I made mine in a 15″ round pan which produces a thin crust that is plenty sturdy to handle lots of toppings.
Remove the top paper and discard. Trim the edges into a nice round crust, like you might a pie crust edge (just because it looks impressive that way 😉  ) then transfer the crust, leaving it on the bottom paper, to a pizza pan.
Bake for 10-15 minutes – mine took only 12 – until middle is firm, just barely beginning to hint at browning, before the crust is too crispy because it will cook more after topping added. Don't overcook at this point.
Take out of the oven and top with your desired pizza toppings. We used these:
Add a thin layer of your sauce – our is basil pesto Alfredo sauce.
Then add the cheese – ours is 2 cups of good quality mozzarella with a sprinkle of shredded Parmesan.
Roasted Chicken, deboned and cubed. We cover the top with liberally. The crust had no trouble supporting the weight of the toppings.
Evenly space the artichoke quarters and sprinkle with jalapenos if you are using them. Tip: if using an ingredient only on one half, mark the half by placing a piece of the ingredient into the crust on each side of the diameter of the crust and also on the mid-point of that side of the pizza (so, three piece mark that side of the pizza making it easy to identify and cut correctly dividing the different ingredients.
Put the pizza back in the oven for about 10-15 minutes – until the veggies are hot and the cheese is beginning to brown and bubbling.
Please comment and let me know what you try and how you like it! I hope you enjoy these tips for increasing healthy foods into your meal plans without sacrificing good eats! My heartfelt desire for you is that you may be as healthy and prosperous in every way as you are prosperous in your soul ~ your mind, will, and emotions. ~ Michelle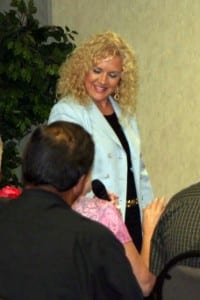 Michelle Pearson is a dynamic wellness coach, speaker, author, and the Founder & President of Picture of Health Inc. On a personal health journey for the past 19 years, Michelle's mission is to educate, activate, challenge and equip others to live a full, satisfying life through the use of state-of-the-art educational resources to produce significant and lasting health breakthroughs.
Dr. Ray Pearson is a licensed Chiropractic Physician and a Pharmacist, with over 43 years in healthcare. Dr. Ray has post-graduate training and certification in numerous advanced wellness therapies and Chiropractic techniques. In addition, he holds a degree in Biology and graduated with honors from Victory Bible Institute & World Missions Training Center.
Dr. Pearson and wife, Michelle, are Catalysts for Change. Together, they have more than 1000 hours of continuing education in advanced nutrition and wellness topics. Both are dynamic wellness coaches, speakers, authors and founders of http://thepictureofhealth.com. Together, their mission is to educate, activate, challenge and equip others to live a full, satisfying life through the use of state-of-the-art educational resources to produce significant and lasting health breakthroughs.