Tropical BBQ Pizza Recipe
& Tropical Traditions Gold Label Coconut Oil Giveaway!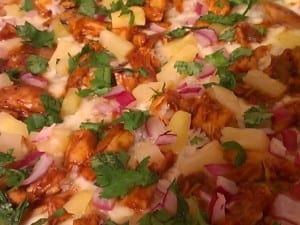 If you've gotten to know me a bit here on the blog, you might know that in addition to the mountains we hike, I also am very partial to beaches, healthy tropical foods, and palm trees!
As I speak of in our Bio, Doc and I spent a year in Mexico as missionaries.   I remember distinctly the first time I looked out my front window to see local men, barefooted, scampering up the tall trees with machetes, to trim the row of palm trees in the front yard.  Ah, yes, that brings a smile! What experiences we had! Good, bad, and ugly, but I wouldn't trade anything for that year of growth. That year, in fact, is what started me on the health journey that led me here to share with you!
I am always on the lookout for things that are a value to our readers and teams, things that increase your health, Spirit, soul, and body. So I was particularly excited when Tropical Traditions recently provided me with a free sample of their premium Gold Label Virgin Coconut Oil to review.  I thought it spoke loudly for the company that I was under no obligation to review it, but could do so if I so chose. Nor was I under any obligation to write a positive review or sponsor a product giveaway in return for the free product, but could do so if I so chose.
I have had my sample for a few weeks now, and I have had time to try it out in several of my favorite uses for coconut oil.  I have been a coconut oil user now for years, but wanted to see if I found a difference in this and other brands I have used.  I've used it on my hands and feet; I used it the other day when I spent time at the pool (Caution: there is not SPF, so I only stayed a short while; but I was so smooth and smelled so yummy!)
We've also used it to increase the taste and health benefit of our smoothies; and, as a first for me, I tried it in our homemade bug repellant and as an eye makeup remover.
On all counts, I have REALLY enjoyed my Gold Label coconut oil! 
If I've got you dreaming of a mini tropical vacation, or if you haven't see much of the coconut industry before, you might enjoy this video from Tropical Traditions on how the meat and milk of the coconut are removed and how the oil is made.
Now, having said all of that, it is Doc who had the most powerful endorsement, thanks to the following recipe I made with our sample!  This recipe is another real WOW! In fact, Dr Ray says it just might be "the best pizza I ever had!"
If you LIKE pizza but avoid it because of sensitivities, allergies, or because you want to drop some extra weight off, I have great news! This is delicious, healthy, AND, it can be prepared easily from home in short order with minimal mess! Serve it on some paper plates for summer eating and you have a winner!
Just like our previous post, perhaps the greatest two things about the crust are that it is all protein (no grain flours) and it does not taste like cardboard! But THIS ONE has the added benefit of… coconut oil in the crust!  THIS will be on our menu on a regular basis!
So here is how I made the recipe using the coconut oil: (easy printable pdf version here)
Almond Flour Pizza Crust with Coconut Oil:
2 Cups Almond Meal/Flour
2 Eggs
2 Tbsp Tropical Traditions Gold Label Virgin Coconut Oil
Our Tropical Toppings:
1/2 cup BBQ Sauce (I used a sweet & spicy Chipotle BBQ) – divided portions
1 1/2 cups diced roasted chicken ( Tip: I keep a roasted chicken de-boned and diced in the fridge all the time for various quick meals.)
2 cups shredded Mozzarella
8 ounces pineapple tidbits,

well drained

1/4 cup shredded coconut
1/2 purple onion – finely diced or sliced (makes about 1/4 to 1/2 cup depending on taste and size of onion)
Handful of chopped Cilantro, stems removed (reserved for top after cooking)
Instructions:
Mix all the three crust ingredients together to form a dough. Will look just a bit sticky at this point. That is expected. Just let it rest in the bowl for 10 minutes.
Preheat the oven to 350 degrees.
Tear off two pieces of parchment paper just larger than your pizza pan or stone. Cut one piece to the round shape and size of the pan or stone and make that the bottom piece. (My parchment paper says no need to oil it, if yours is not that type, then light oil the two pieces on the side that will contact the dough.)
Put the dough between the two pieces of parchment paper and roll it until desired thickness.  You might find it more of a pressing out with the rolling pin rather than rolling, but just roll it out to the size of the bottom parchment piece. I made mine in a 15″ round pan which produces a thin crust that is plenty sturdy to handle lots of toppings.
Remove the top paper and discard. Trim the edges into a nice round crust, like you might a pie crust edge (just because it looks impressive that way 😉  ) then transfer the crust, leaving it on the bottom paper, to a pizza pan.
Bake for 10-15 minutes –

mine took only 12

– until middle is firm, just barely beginning to hint at browning, before the crust is too crispy because it will cook more after topping added.

Don't overcook at this point.

Take out of the oven and top with your desired pizza toppings. We used these:
Add a very thin layer of your BBQ sauce, using a spatula makes this easier to spread and get it evenly to the crust edge.
Then add the cheese – ours is 2 cups of good quality mozzarella.
Next,

mix the remaining BBQ sauce with your deboned and cubed Roasted Chicken.

Then cover the top evenly with the BBQ chicken.
Sprinkle with the shredded coconut, the drained pineapple bits, and the finely diced purple onion.
Put the pizza back in the oven for about 10-15 minutes – until hot and the cheese is beginning to brown and bubbling.
Top the cooked pizza with the fresh chopped Cilantro and serve!
You will find additional resources on this high-quality, great tasting source for good fats at these links:
When you visit Tropical Traditions site, you can find out exactly
If you order by clicking on any of my links and have never ordered from Tropical Traditions in the past, you will receive a free book on Virgin Coconut Oil, and I will receive a discount coupon for referring you.
Since I believe in this product (from my own personal experience with it), and want to pass on a chance for you to win your own 1 quart jar (which is really big actually), I've listed the 2 giveaway requirements below:
1) LIKE our Facebook page (Easy link in the Giveaway Box below.)
2) Subscribe to the Tropical Traditions Email Newsletter (Again, there is an easy link in the Giveaway Box below.)
(BONUS TIP: If you want to increase your winning entries, just complete the extra items in the Giveaway box, but the first two are required.)
Now, here is the actual contest!
(contest is over thank you!)

Your entry only takes a minute to complete! We are running the contest from July 12th to July 21st.
The winner will be announced on my Facebook page on July 22nd. Once we get your info., your very own beautiful jar of Tropical Traditions Gold Label Coconut Oil will be sent directly to you!
 One last thing!
Thanks for participating and save the date: I will announce the winner July 22nd!
Please comment and let me know how you like it! I hope you enjoy these tips for increasing healthy foods into your meal plans without sacrificing good eats! My heartfelt desire for you is that you may be as healthy and prosperous in every way as you are prosperous in your soul ~ your mind, will, and emotions. ~ Michelle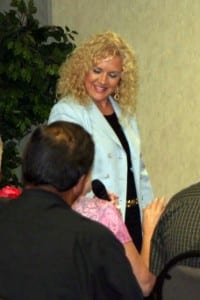 Michelle Pearson is a dynamic wellness coach, speaker, author, and the Founder & President of Picture of Health Inc. On a personal health journey for the past 19 years, Michelle's mission is to educate, activate, challenge and equip others to live a full, satisfying life through the use of state-of-the-art educational resources to produce significant and lasting health breakthroughs.
Dr. Ray Pearson is a licensed Chiropractic Physician and a Pharmacist, with over 43 years in healthcare. Dr. Ray has post-graduate training and certification in numerous advanced wellness therapies and Chiropractic techniques. In addition, he holds a degree in Biology and graduated with honors from Victory Bible Institute & World Missions Training Center.
Dr. Pearson and wife, Michelle, are Catalysts for Change. Together, they have more than 1000 hours of continuing education in advanced nutrition and wellness topics. Both are dynamic wellness coaches, speakers, authors and founders of http://thepictureofhealth.com.