Are You Confused About…
Your Health and Gummy Bear Vitamins?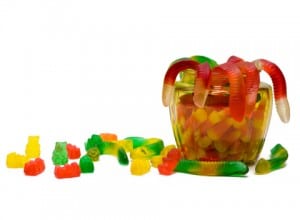 Just after we returned last week from another 24 hours of nutrition and wellness continuing education, I noticed on my Facebook page an add to the right about some diet product for families! And it was Gummy Bear Vitamins or GUMMIES. Are you serious? So I clicked it, after noticing that one of my Facebook friends had actually "liked" the page! Do you know what I found?

Yes! They are totally selling "gummies" to families for "family friendly" weight loss. So, A) ABSURD. and B) Be intelligent folks! You CAN'T seriously believe that will help you??

Listen, in love and seriousness, health will never, never, never, come that way. Health is fun simply because you live long, strong, and, you have more money and more fun because you do! You can't try to have fun getting healthy by eating gummy bears, gummy worms, or whatever they were. The folks who fall for that are completely flesh-driven and will never break the disease cycle always falling for the easy gimmick hoping it's the magic bullet!

With thousands of hours in nutritional training and years of clinical experience and also in wellness coaching, we have all kinds of people who have come to us for help.You are probably here because someone else referred you to us because they care and/or because they have found help here!

Roughly 80% of the people come to lose weight.  We have many people come who have an eating disorder of another kind.  They may have anorexia or bulimia.  They may be "restrained eaters," a significant number of people have sleep disorders, are cancer survivors, or have heart disease.  We also have a lot of people who come who have diabetes or hypoglycemia or insulin resistance. We have a whole bunch of folks who have denial. (Oops, I forgot, that's not a disease.)

But truly, there's a whole host of people who are seeking help. Real help, real hope, real answers. The bottom line is, they're all really coming to us for the same reason: 
You need to know how the body works and how to make good choices to produce health instead of disease. 
The Picture of Health wellness coaching plan is not a diet, although if you need to lose weight, you will lose weight on the plan.  What we teach you is that your body is designed and created by God to be in perfect health.  Your choices directly affect whether or not you walk in that health or not.  Once you take care of your body, in the way it was designed to be cared for, it will produce the exact shape, size, and weight that your particular body needs to be. This is a "life-plan"… a plan for an outrageously good life!
And, that may or may not be the size of the model on some magazine or the size, shape, and weight you were in high school.
First of all, you were a child when you were in high school. That is not a healthy image for you to long for as an adult. Secondly, most media models and even most professional athletes are not really healthy; many, if not most, models, actors, horse jockeys, gymnasts, wrestlers, etc., have anorexia, or bulimia, so you really don't want to pattern after that.  What we need to do is learn the difference between truth about our body and the lie of society about what makes "the picture of health."  You can be the image of the picture of health and not be healthy inside.  That doesn't do you any good. 
We want to allow your fearfully wonderfully designed body to create for you, by design, the picture of health in your whole body, from the inside out. 
That's what our wellness coaching groups, events, and teaching resource series are made to do: to teach you how the body works, from the inside out by design, so you can be in control of the results.  You can be the authority of whether you can be healthy or whether you have disease. 
It's your health… it's your choice.
Your first step today? Take the free health quiz on the top menu!
Believe. Choose. Activate. Achieve. (Repeat.)