As you walk the path toward healthier lifestyles and healthier meals, one of the first things people tend to leave out is meat, like bacon, pork, and sausage! For those who truly enjoy the flavors and textures of sausage, that's a big taste deficit. Thankfully, not all of those are really that unhealthy if prepared properly. And, we can use other meats to fill in a healthier option in some recipes. Our Food Editor has come to your rescue this week by finding and editing a bit to provide you with a great recipe that should fit the bill nicely, leaving out the preservatives and MSG found in almost every commercial sausage. Hope you enjoy!
Healthier Homemade Sausage Patties
by Contributing Writer, Betty Folse Marks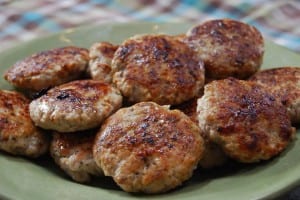 Ingredients:
1 pound ground chicken or turkey, or a combination of these.
1T brown sugar or Turbinado / demerara sugar
1 1/2 tsp. Sage
1 1/2 tsp. finely minced garlic
1 tsp. ground Himalayan Salt
1 tsp. fennel seeds (optional)
1/2 tsp red pepper flakes (more if you like it spicy!)
1 1/2 tsp ground nutmeg OR 1/2 tsp freshly grated nutmeg
Mix all ingredients in bowl until evenly incorporated.
Divide sausage mixture in half and shape each half into a roll. Wrap the rolled logs in plastic wrap and chill til slightly firm, at least 1 hour or overnight. Unwrap logs and slice into twelve patties, reshape as necessary.
Fry sausages in large skillet coated with peanut oil or coconut oil, over medium high heat til cooked through, 5 to 7 minutes per side. Let drain on plate lined with paper towels.  Serve hot or cold.
Are you on Pinterest? Like the recipes? PLEASE PIN IT with the easy pin-it button below!

Leave Betty a comment and encouragement!
We'd love to hear what you would like to see in this section in the future! Have a healthy recipe to share without soy and without diet foods? Email us and we will consider it for posting!