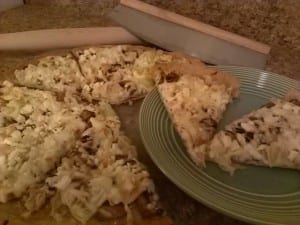 Finally! We have it! A truly healthy, but gourmet pizza, made from scratch that is SO EASY even I will make it! So, since I have been sharing all my recent pizza successes on Facebook and Twitter, I thought I would just bless our readers even more by sending along the recipe and a few of the scrumptious pictures!
So, first, to back up to the beginning of this the story, we recently enjoyed our church's annual Celebration Sunday.   This is a VERY special day to celebrate God's goodness to us all by giving and receiving just about anything you could think of in new or gently used but exceptional condition. That's right! There are these giant tents that contain other wonderful things like household goods, books, computers, kitchen things, lawn care equipment or tools… whatever you could imagine! And there are free clothes by the thousands for all who care to receive, no cost, no obligation, just the pure joy of a new outfit, shoes, or whatever they may find a blessing in that area.
All of these things have been given for the shear joy of it finding it's way into the hands of someone who has that heart's desire. Each person attending the day-long celebration (including tons of free foods, rides, games, Gospel singing, car show, and more) receives an opportunity to stroll through a give-and receive tent and take home something that is a blessing to them. For example, our friend Jody got her husband a fancy Stihl weed eater! Well…
My husband entered the "blue tent" at his allotted time to wander through the multitude of blessing items generously sowed (given freely) by church members and ministry partners from all across the globe. And wonderful man that he is, instead of picking something for himself, my husband got me a bread machine!
Now, if the whole truth be told, he really had no idea what it was, but the volunteer in the tent knew and once he explained to Doc that this little machine made homemade bread… let's just say he considered that to be a double win! You know, he would bless me with the gift and… of course, I could bless him with fresh bread! 😀 Yes, indeed I did marry the smartest man on the planet.
Imagine how much more pleased he was when I announced it also made pizza dough! So, ever since I have been testing it out for family and friends (multiplying the blessing, of course!)
So here is the recipe for the crust, tweaked just slightly from several that were on the internet, to produce a firm, flavorful thin crust with a soft mouth feel (Note: This could be used for a thick crust also if you use in a smaller 12″ pizza pan. I use a 15″ pan so I have a few meals prepared from the one cooking time.)
Ingredients
For the Crust
1/2  cup plus 2 T warm water (105-110⁰F)
1 Tbsp butter (softened,  add in with the hot water)
1 tsp salt (my machine says add salt with the liquids, not the dry ingredients, but do what your machine says if different.)
then (mix together before adding to machine):
1 Tbsp raw sugar
1Tbsp Rosemary Garlic Seasoning (or other dried herb seasoning of your choice – just make sure it does not have added salt in it or will be too salty! Also, I made one with black and green olives and proved to be a bit too salty for me, so adjust to your tastes.)
2 c whole wheat flour, whole grain pastry flour, or 50/50 flour
then (make a slight spoon indention in the flour and) add
1 Packet (approx 2 ¼ tsp) active dry yeast
Reserve for later:
1T+/- Corn Meal (Optional; reserved for dusting the pan, NOT added into the dough!)
Note: I used
Hodgson's Mill
  yeast packet for whole grain flour, and I also used their 50/50 flour and cornmeal and had perfect results. Many recipes called for only 1tsp of the yeast, which we tried also, but was a bit too hard on the mouth and more like cardboard. The full yeast packet from Hodgson's Mill provided just the right amount of softness to the dough for a great mouth feel yet was still strong enough to hold gourmet amounts of toppings, even as a thin crust.
For the Pizza pictured (in the order listed):
Artichoke (or other flavor) Pesto (4-5 ounce jar) or Pesto Alfredo Sauce – enough to spread a thin layer over all of the crust.
2 c shredded mozzarella cheese
2 ounces Feta Cheese crumbles
one small roasted chicken, deboned and cubed (Yes, we did use the whole little chickie but you could use leftovers, turkey, or whatever meat you choose. A large roasted chicken would do two 15″ pizzas liberally. Bacon, if you eat it, would be good with the Alfredo sauce)
Additional Toppings:
One onion, red or vidalia, thinly sliced with the mandoline then sauteed over medium heat in olive oil until caramelized
One half carton of fresh sliced baby bella mushrooms to the onions and sauteed until the mushrooms were nice and tender.
1 jar of artichoke quarters (drained well, not marinated)
small jar or can of chopped or sliced black olives, drained well (only on my side, Doc doesn't care for olives.)
Instructions In My Bread Machine
Add crust ingredients (in the order listed) to the bread pan of your bread machine. Process according the manufacturer's instructions for the dough setting. (Mine takes 50 minutes on the pizza dough setting. I just get my other toppings ready while it is mixing. The dough should come together to a nice, soft and slightly tacky ball after it completes.  If dough feels too moist or sticky, add more a little flour a teaspoon at a time when you are rolling it out; you can add during the mixing if you are comfortable doing that, but mine came out perfect so I haven't done that.)
When the dough is done, remove it from the bread machine onto a rolling surface you have sprinkled with about 2 tsp flour.
Making the Pizza
Preheat oven to 400⁰F.
Roll out into a 15" crust (or whatever size your pan or stone is). If you don't want to roll it, you could press it into the pan for a rustic crust! Just try to get it pretty evenly pressed out so that it will bake evenly.
Lightly grease or spray the pan with Olive Oil, then dust lightly with the Corn Meal
To easily place the dough on the pan or stone, you can gently roll it up around the rolling pin and then unroll it over the pan, like a pie crust.
Place dough on your pan or stone, prick the dough with fork tines so that it doesn't bubble up during baking.
Assemble with the toppings listed above (or any of your favorites) with the sauce and cheeses first, then the other toppings.
Place in the oven and bake for 20-25 minutes, depending on your oven, until cheese is melted and crust is golden.
I so hope I got all that down right! I will double check it when I make your pizza!   😀  Until then, here are a few shots of the yumminess:
Before cooking: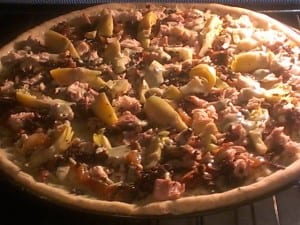 After cooking: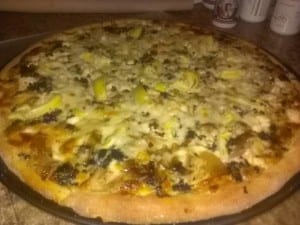 I hope you enjoy these tips for increasing healthy foods into your meal plans without sacrificing good eats! My heartfelt desire for you is that you may be as healthy and prosperous in every way as you are prosperous in your soul ~ your mind, will, and emotions. ~ Michelle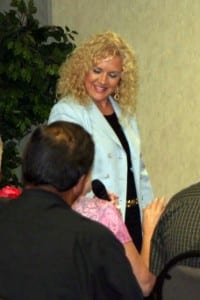 Michelle Pearson is a dynamic wellness coach, speaker, author, and the Founder & President of Picture of Health Inc. On a personal health journey for the past 19 years, Michelle's mission is to educate, activate, challenge and equip others to live a full, satisfying life through the use of state-of-the-art educational resources to produce significant and lasting health breakthroughs.
Dr. Ray Pearson is a licensed Chiropractic Physician and a Pharmacist, with over 43 years in healthcare. Dr. Ray has post-graduate training and certification in numerous advanced wellness therapies and Chiropractic techniques. In addition, he holds a degree in Biology and graduated with honors from Victory Bible Institute & World Missions Training Center.
Dr. Pearson and wife, Michelle, are Catalysts for Change. Together, they have more than 1000 hours of continuing education in advanced nutrition and wellness topics. Both are dynamic wellness coaches, speakers, authors and founders of http://thepictureofhealth.com. Together, their mission is to educate, activate, challenge and equip others to live a full, satisfying life through the use of state-of-the-art educational resources to produce significant and lasting health breakthroughs.