Are you ready to graduate
to better health?
by Dr. Ray and Michelle Pearson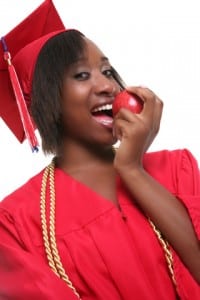 We have a surprise for all our readers!!! It is the end of the school year and not only are we excited to be spending next week with our grandchildren, we are also so very pleased to say that our son-in-love Billy is graduating with his bachelor's degree this week!
Billy is so diligent to care first for his walk with God, attend with great love to his marriage, raise godly healthy children, as well as work a full-time job, but on top of all that he has plugged away faithfully to reach this degree completion! So we are saying "Hat's off to you Billy!" We are so blessed to have you as a son and so blessed God has equipped you to finish the course!
In honor of his accomplishment we are celebrating! And you get the gifts!!
In speaking of graduating, we talked to so many folks recently on our tour of Pennsylvania and Maryland who are jazzed about graduating to a better life and better health this season!
If you haven't heard of or seen the chats about it yet, we asked around to see how many people would be interested in doing a "Special Ops" Boot-Camp to blast off to a new start as the seasons change from spring to summer! For the next 40 Days, we are going to graduate to better health, to set the tone and the metabolism for the rest of the year!
BUT HOLD ON !!! I said YOU get the graduation gifts! That's right, we got such a great response to our meetings in the east these past two weeks, as well as our posts on social media, that we put some things in place and are now opening it up to include all our email and partner's list, plus anyone else you want to tell and invite to join us! YOU too can spend the next 40 Days with us and YOU! can graduate to better health too! Set the tone and the metabolism for the rest of your year!
So, here are the details:
Beginning May 1, 2012 running through the whole month of May, you can "graduate" to better health Spirit, Soul, and Body, FREE! Through social media and email and live conferences via video, we'll join together "virtually" for 40 Days for…
"2012 Best Year of Our Lives" 40 Days Special Ops Bootcamp
It's time to give a tithe (10% of your year) of consecrated efforts as precious seed to produce fit, fun, fabulous, faith-filled results our whole year through!
Here is what we have planned so far:
Daily devotionals to inspire and re-fire both your spirit and your metabolism.

40 Daily Video Tips to "Train Your Brain to Reframe" your thoughts for victory!
Personally targeted eating program, wellness assessment, and "Personal Path to Success"

6-week access to our private Facebook forum, "The Joshua Groups"

Weekly Challenges and Marching Orders (homework) to keep you on track and moving forward.

Weekly training sessions live on the WebEx audio/video conference.

Plus our public access to:

One Minute Motivators on Monday

Two Tip Tuesdays videos

Free Reign Fridays, face-to face chats and questions answered on Social Media via Facebook & Twitter
(You can download FREE the POH Daily Power Plan eBook from RIGHT SIDEBAR right now! Or purchase a regular paperback copy from the Products and Resources tab; it's your choice.)
You'll have accountability, encouragement, and a kick in the pants, too, if needed. ALL of that exclusive expert coaching and personal training… for one dollar a day! NO WAIT!! FOR ONE MONTH ONLY – it is really free!
We know, it is just Outrageously Good!
After May, it will go back to $40.00* for the 40 Days Bootcamp. But you can start this month to produce results that keeping gaining momentum month by month, all year long! We think you will like it so much that you will want to join us every month for The Joshua Groups wellness coaching!

*Important: if you are already a member of The Joshua Groups "2012 Best Year of Your Life" Wellness program, you get all this extra for FREE. Mountain Takers perk! But you do have to sign-up.
So, quit hem-hawing around, as they say in the south, ask someone you love to do it with you – if they won't, do it anyway! Say Yes! To the inner witness that NOW is the time for you to take the territory back, to take land on your mountain of health!
Already healthy?? If you are well on your way already, perhaps it is time for you to consider taking The Summit! We'll have special challenges for you! Just let us know you want The Summit during your bootcamp!
If this sounds just like what you've had in your heart, or perhaps just like what the Lord has been trying to get into your heart… then click below to get enrolled! Really, it will be a great time to grow in every area – Spirit, Soul, and Body.
STEP 1: REGISTER right now.
No matter what level you are at, God's got great things in store for us all in 2012.
STEP 2:
Contact us on Facebook (links are on the top left sidebar!) so we can give you a coupon code to cover May's fee for FREE!
God has declared to our whole company, our whole ministry, our whole family… "2012 The Best Year of Your Lives" as we seek Him first. Join us! There's not a better more comprehensive way to do that then The Picture of Health 40 Days Special Ops Bootcamp!
Register right now. Then enjoy the rest of this year knowing you have already set your heart toward faith and consecration for your best year yet!
Looking forward to sharing this time and the tremendous experience with some seasoned veterans as well as some new recruits! Step lively, we don't have much time to get this group ready for Day 1!
** Your Bootcamp will start the SUNDAY after you register.
Wholly Devoted,
Dr. Ray & Michelle Pearson