Don't just sit there!
Join Us on The Journey of a Lifetime!
with Dr. Ray & Michelle Pearson
Have you watched the videos? Are you all plugged in to join us on the journey of a lifetime?
We are well on our way in training these days. What a journey it is becoming already! The two-week "tell it tour" in Pennsylvania and Maryland last month was amazing and we met many new friends and partners along the way! (We will have a video to post for you in the next few days!)
Also since our last post, we have received the nicest correspondence with Pearl Alliance about the climb! They are fully on board with us and excited about being selected as one of our 5 Charities to Champion! You can watch a video about that charity on our Facebook page.
To bring you up to speed, especially if you are new here, let me say that, although I've been a Wellness Coach for the past 12 years, I am not naturally athletic and I am certainly not an extreme athlete! Yes, I am strong, healthy, and mindful that my body is divinely designed for a purpose. But, in many areas, I am just like most of you…
I am an ordinary person housing an extraordinary dream waiting to be birthed into a natural environment that, at best, seems a highly unlikely incubator for that dream.
But climbing mountains was never one of those dreams! Never. Coaching people back to a wealth of health, Spirit, Soul, and Body, seeing them live long, satisfying lives, in the fullness of their purpose… now that is my dream!
So why would this ordinary gal from Arkansas, nearing my 50th birthday, with 8 children and 3 grandchildren, a husband and full-time ministry, train for months, travel to Africa, and climb Mt. Kilimanjaro? All 20,000+ feet of it, five miles into the sky-high! WHY climb?
To remember you. And to remind you, and me, that health and wealth are more than pie-in-the-sky unattainable dreams. They are sure and present possibilities for those who will believe that there is a better way of life and ACT on that belief. And to use that wealth and health to tell others, many living in horrible circumstances, that they are remembered too!
We stepped out to make someone else's dream – be it health, wealth, safety and security, good drinking water, or Good News delivered to the uttermost parts of the world – we stepped out to make that dream not just a possibility, but a reality.
And, so can you! Join us for the journey and be inspired as you take your own type of mountain!
Listen, we live in the Ozark Mountains of Arkansas and Southwest Missouri. They are sufficiently steep hills, but they are no where near as tall as Mt. Kilimanjaro. When we began to train, I could hike about 2.5 miles daily on these hills without injury. I did other forms of exercise, like rebounding, Pilates, etc. but not hiking. So, in order to be in top hiking shape by January, I set a goal to hike the hills 6 out of 7 days per week and increase by just a half mile every month until January.
That strategy, along with some monthly mountain hikes and other special training excursions, combined with cross-training on EWOT, the exercise of Olympic athletes, was our training plan to prepare me for the climb.
(Pop over to "Shh! Secret Exercise Tips of Olympians" at The Picture of Health site to learn about EWOT.)
But… you need to hear this! HERE'S THE GOOD REPORT:
Wisdom and strength are growing in me and God is supplying tools to take that mountain.
As of this week, just three months into training, I am now at 6.5 miles of Ozark hill hiking 5-6 days per week! Yes, that is several months ahead of schedule, thanks to the Lord's equipping spiritually, emotionally, and physically, with some amazing love and some great new nutrition.
Every step I have had exactly what I needed to rise a little higher! I am so thankful for that and for all the prayers that are keeping me going strong despite some huge hurdles!

And I believe, no, I know! He will do the same for you! Whatever your mountain is, we are standing with you for God's best to change your circumstances into victories as you step out on the path of hope!
So, plug in with us if you haven't yet! Join us for the epic journey – more than we ever imagined! Be a part of it all as I train, as our team hikes the hills and the mountains, remembering each of you with every footstep.
Be sure you use the connect buttons on the top left sidebar to link up on Facebook and Twitter – I post regularly during my training.
Our partners and sponsors are rooting for you, remembering you, and remembering that God has the GOOD plan for each of you – it is a plan to prosper you, to heal your body, and to do you good!
I'll see you on the mountain tops, or from them if you snooze!
(P.S. If you are interested in hearing more about how I DOUBLED my weekly mileage in just 8 days, Dr. Ray and I will be sharing about this powerful new nutritional discovery with our team this month in The Joshua Groups online wellness coaching. That's over on our wellness education page. Just click this link: to sign-up for FREE in JUNE and you can sit in on the nutritional training – for free – later this month. DO IT NOW. Champions live differently… they don't make excuses!)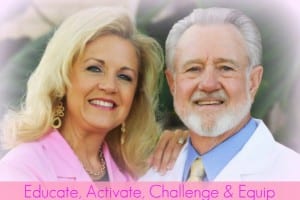 This is a guest blog post from our website for our special Mt Kilimanjaro project. This project has been birthed from a passion to reach and serve others.
Dr. Ray Pearson is a licensed Chiropractic Physician and a Pharmacist, with over 40 years in healthcare. Dr. Ray has post-graduate training and certification in numerous advanced wellness therapies and Chiropractic techniques. Dr. Pearson and wife, Michelle, have more than 1000 hours of continuing education in advanced nutrition and wellness topics.
Michelle Pearson is a dynamic wellness coach, speaker, author, and the Founder & President of Picture of Health Inc. (http://thepictureofhealth.com). On a personal health journey for the past 18 years, Michelle's mission is to educate, activate, challenge and equip others to live a full, satisfying life through the use of state-of-the-art educational resources to produce significant and lasting health breakthroughs.
The Pearson's are also both full-time Christian ministers. Through God's grace, the Pearson's challenge and equip others to live in complete health… Spirit, Soul, and Body. It is through the power of the Holy Spirit, extraordinary knowledge, and exceptional natural tools that all of us will fulfill our purpose, in the full measure of divine health.
We are delighted you have visited the site and hope you will be inspired and challenged as you learn more about the design of your fearfully and wonderfully made body and the purpose for which you were created!