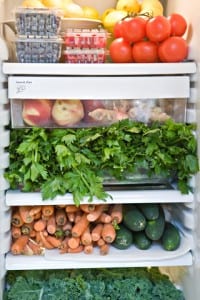 We get this question frequently… are you vegetarian or vegan? And the answer is no. But we do eat about 80% vegetables on a daily basis and also eat all veggies for periods of time several times per year. Known as a "Daniel Fast", it helps to clean out the GI tract and elevate the body's pH. It really gives the body an opportunity to rest. Juicing is another great way to get the awesome benefits of vegetables, but we don't do that exclusively either.  Both are healthy adjuncts to a complete, well-rounded, nutrition-based eating plan.
There are outstanding benefits to meals and recipes that are all vegan or vegetarian, but a fasting period of 21 to 90 days, up to about 6 months, is more than sufficient. In extreme cases of disease, longer may be warranted, up to three years maximum.  But the blood and other cells replace themselves by 120 days and the healing of the gut takes a few weeks to up to six months. After that, in most cases, proteins, fats, and carbs should be continued once again in healthy portions.
Considerations for Vegan & Vegetarian
The reason longer term use (more than 3 years) of exclusively plant-based meals is unhealthy has to do with the absence of good fat sources and true proteins which are required for both gut health and the entire endocrine system. Things like pea protein, rice proteins, other flax or nut based nutrients, can be healthy, yes, absolutely, but are not sufficient to supply all the building blocks required by the body's design.
Because symptoms of deficiency do not normally show up until about the 7 year mark, it is unlikely that vegans and vegetarians would relate new disease or function problems to their long-term eating style, especially when plant-based eating plans typically produce great health recovery when first started. Hair loss, structural instability in the spine and joints, emotional instability, hormonal instability, infertility, and sexual dysfunction are common disease signals in long-term raw food, vegan, and vegetarian lifestyles.
So, again, those are some fast facts on the benefits of fasting, but a caution not to feel so good that you forget the purposes of fasting! Be sure you add back in healthy sources and serving sizes of quality protein, fat, and low-glycemic high-fiber carbs!
#LiveFully in Freedom, even when you are fasting! We will visit more on healthy ways to eat in upcoming blogs. Jump in to the conversation!
Let me hear from you in the comments below, and on the Facebook and Twitter feeds!
 ~ Michelle
Dynamic wellness coach, speaker, author, Mountain Taker, and the Founder & President of Picture of Health Inc., Michelle Pearson is a Catalyst for Change! Because… The Picture of Health is more than meets the eye!